Exhibition of portraits from the lens of Kateřina Janišová in Paradise Gallery
We are pleased to invite you to an exhibition of portraits by renowned photographer Kateřina Janišová, which will be held in the PARADISE Gallery at our school from 30 October to 26 November 2023.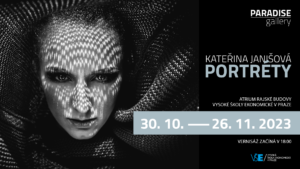 Kateřina Janišová is a photographer with over 15 years of professional experience. Her main specialization is black and white photography, especially portraits of women. Kateřina works as a photography instructor at Centrum FotoŠkoda and also spent several years as an external editor for the FotoVideo magazine. In 2021, she released her first photographic book "WOMAN", for which she was nominated the following year for the APF award in the Photographic Publication of the Year category.
Her work is characterized by authenticity and a deep sense of detail. Kateřina consistently ranks at the top in prestigious photography competitions, both in the Czech Republic and abroad. In 2017, she received a gold and bronze medal from the FIAP association for her outstanding work, and in 2022 she was nominated for the personality of Czech photography.
Don't miss this unique opportunity to get acquainted with the work of one of the best Czech photographers of today. We look forward to your visit!